Lectern stolen from Wiltshire church spotted in Romania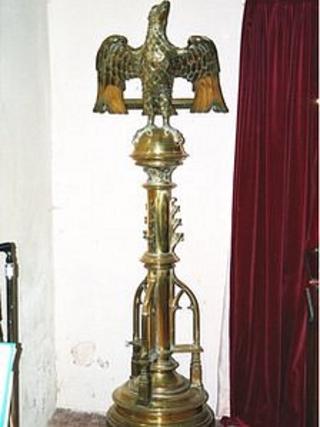 An ornate brass lectern stolen from a church in Wiltshire has been discovered at an antiques fair in Romania.
The 4ft (1.2m) eagle lectern was stolen from the Holy Cross Church in Ashton Keynes in September.
The artefact has since been spotted in Romania by a man who contacted Wiltshire Police after an internet search showed it had been stolen.
Gaye Horrell, treasurer at Holy Cross Church, said she was "amazed" and "we thought it had been melted down".
The lectern, thought to be worth about £2,000, was identified by a plaque engraved with the name of the church.
PC Steve Harvey, who received the email from Romania, said it came "completely out of the blue".
Working with Interpol
"I thought it was a scam email but it had a mobile number on it," he said.
"So I called the person, who didn't speak very good English, and he said he'd seen this unusual piece in a village in Romania and when he looked at it - he noticed the Ashton Keynes engraving.
"He searched the internet for some sort of news report and eventually ended up emailing me.
"We're now working with Interpol and I'm reasonably confident it will be returned."
Ms Horrell said the congregation had "no idea" when the lectern was actually taken.
"It was too heavy to move around and the church is locked at night so it must have been dragged out of the church in broad daylight," she said.