Builder defends Cotswold 'cowshed' house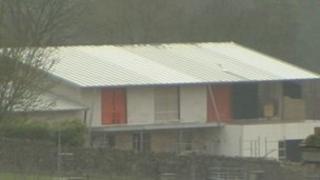 A man who is building a house in a Cotswold village has defended his design after it was described as a "cowshed".
Builder and developer Tony Joy is building the five-bedroomed home to sell in Cowley, Gloucestershire.
Locals described it as an "ugly cowshed" to newspapers and claimed it set a bad precedent.
Mr Joy said he understood their concerns but his vision would be revealed when the house was completed.
'Out of keeping'
He said: "The entire building will be clad in a mixture of stone, which will be made up of a local dry stone, Bath stone, which will be ashlar, and also some timber cladding which will be allowed to weather naturally. And then the roof is zinc.
"So we've got three elements - metal, stone and wood, and we're aiming to make those combine harmoniously together."
Villager Ray Goodwin said: "It's completely out of keeping with a traditional Cotswold stone village.
"This is not being nimbyish or whatever - not in my back yard sort of thing - we're talking about a precedent now that has been set and that sort of house could spring up all over the place."
Cotswold District Council admitted the design was bold but added that due process was followed in the planning decision.
The house is due to be completed in the summer.