Bullied council boss Christine Laird highlights mental health issues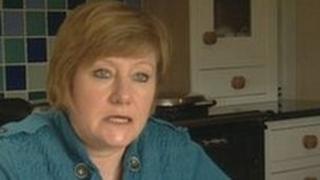 "I was very frightened, I lost a lot of weight, I couldn't sleep, when I did sleep I was having nightmares, I was vomiting constantly, my head hurt."
Christine Laird, the former managing director at Cheltenham Borough Council, describes the state of her health as it deteriorated due to constant stress at work.
Mrs Laird, who was appointed in 2002 but left in 2005 after taking sick leave on full pay, was unsuccessfully sued by the borough council at the High Court in 2009.
The authority had accused her of having withheld a depressive illness when she applied for her job.
In 2010 an industrial tribunal ruled that the treatment she received from the council was "calculated to cause personal distress".
'Horrible situation'
Talking about her treatment by the council, Mrs Laird said: "You're filled with self-doubt, you begin to think 'what is it about me they don't like?'
"You ask yourself, 'what can I do differently? What can I do to please them?'
"It seemed to me that it didn't matter what I did, it didn't make a difference - it is horrible to be in that situation."
As well as giving hope to people with work-related mental health issues, Mrs Laird also wants to highlight the difficulties people with mental health problems have while going through the court system.
"The trial schedule [at the High Court] didn't even reflect the fact that at the time I was still seeing the psychological therapy service two days a week - I needed that two days a week simply to be stable."
She said she would end up fainting from the stress and had to increase her medication to cope.
"I remember one day I fainted, fell, hit side of my face on the bench and it was only when I went home, I realised I had lost my front tooth and needed emergency surgery."
Eventually, Mrs Laird won her case and was awarded £250,000 in damages in 2009, although she says £75,000 is still owed to her.
The council has said it wants to "move on" and focus on improving its service.
Having gone through the stress of workplace bullying and two trials, Mrs Laird is now hoping to encourage others it is possible to "survive your illness".
"The message that I want to give out is 'don't give up'.
"There were times when I hit rock bottom and I can't think of anything worse than someone with a severe mental illness to be dragged though the courts system."
Mrs Laird believes her ill health could have been avoided and that she could have recovered fully if the council had taken the advice of her doctor.
"If people like me don't speak out and say 'this is what caused it' [her treatment at work], it will go on happening and maybe just giving an interview [to the media] will make people realise that I am not a crackpot but someone living with a mental illness that was avoidable."