Drink-driver promotes Gloucestershire safety campaign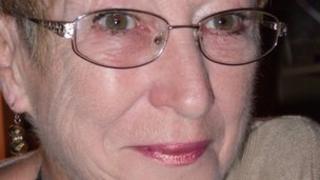 A grandmother convicted of driving with excess alcohol is helping to promote an anti-drinking and driving campaign.
The Gloucestershire Road Safety Partnership campaign aims to deter people from drinking and driving over the Christmas period.
Christine Watts, 64, from Bibury was banned from driving for 20 months in July.
She said: "Don't drink and drive. It's not worth it. Don't do it to your family, your friends and yourself."
Mrs Watts said she was ashamed of her conviction and felt "great remorse".
She was pulled over by police the morning after drinking heavily.
Responsible drinker
She said: "I'm not saying nobody should enjoy themselves, or have a few drinks, especially over the festive period, but please, please be aware that you can still be over the limit the next day.
"I've driven all these years - since I was 18, and never so much as received a parking ticket or a speeding ticket. I thought at 64 I should have known better.
"Ever since it happened I just can't bear to think about it."
Since being convicted, Mrs Watts has attended a drinking and driving awareness course run by the Road Safety Partnership.
"It helped tremendously," she said. "It was one of the best things I've ever done. I'm a responsible drinker now.
"On the course you're told about the 'ripple effect' - about how many people are affected by your actions. It's so far-reaching."
As a parent and grandparent, Mrs Watts says she is thankful that in her case no one was hurt, and she is only too aware of how lucky she was.
"When I think now about what could have happened, I could have killed or seriously injured someone, or myself.
"Now, in the run up to Christmas, being with my family, I shudder to think of those consequences. Instead of being with my family I could be spending Christmas in prison."
Garry Handley, of the Gloucestershire Road Safety Partnership, said: "Any amount of alcohol will impair a driver's ability to drive safely, and our message in this year's campaign is absolutely clear, and that is to avoid drinking alcohol completely if you are driving."
Between 1 December 2010 and 1 January 2011, Gloucestershire police arrested 52 people for drinking and driving from a total 1,367 breath tests conducted.
This year's anti-drinking and driving campaign will run until New Year's Day.