Gloucestershire strikes: 2,000 protesters join mass rally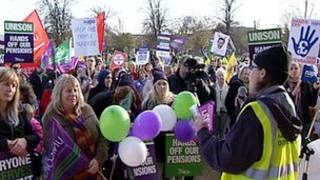 About 2,000 public sector workers have taken part in a mass rally through the streets of Gloucester.
Teachers, nurses, probation workers and lecturers, who were on strike over pension changes, took part in the protest.
The protests were part of a day of strike action nationally.
The prime minister's official spokesman said the strikes would "achieve nothing - it would be far better to continue with the talks".
More than 200 schools maintained by Gloucestershire County Council were closed or partially closed on Wednesday by the action.
The national president of the Trades Union Congress (TUC) visited striking workers in Gloucester.
'Real onslaught'
Paul Kenny, who is also general secretary of the GMB union, joined staff at the picket line outside Gloucestershire Royal Hospital before speaking at a rally at Shire Hall.
Mr Kenny said: "[The workers] are being denigrated with wage freezes and attacks on their rights, and now 700,000 jobs will go.
"It's been a real onslaught and attack on the provision of public services. It's wrong and it's not fair."
The South West TUC estimated that 20,000 public sector workers in Gloucestershire had been on strike.
Community health nurse, James Reeley, who joined the rally, said: "We're being given a pay cut at a time when everything is difficult, and on top of that we're being told that what we do does not deserve the pension we were told when we signed up to do our job.
"They are reneging on the contracts that they promised us. I signed up to work as a nurse. I signed up to work believing I would have a pension that was reasonable and dignified."
Another protester, teacher Linda Ostrowska, said: "I think most people feel that what we're doing is right and most people that I've spoken to support what we're doing."
Schools closed
A spokeswoman for Gloucestershire County Council said only back office staff had been striking, not front-line staff.
The council maintains 294 schools and more than 200 were closed or partially closed on Wednesday.
At least seven council-run libraries in the county were closed and others partially closed.
Yvonne Pirso, from Gloucestershire Hospitals NHS Foundation Trust, said it had been "business as usual" at Cheltenham General and Gloucestershire Royal hospitals.
"We are not cancelling any operations and any patient appointments so we are really pleased about that and proud of our staff for coming into work as usual," she said.
She added that some physiotherapy appointments had been affected but the patients concerned had been notified of any change.