Moreton-in-Marsh Stone Age axe find leads to seaside theory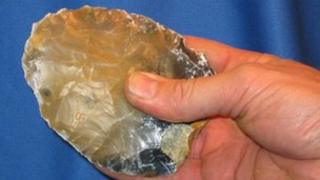 A Stone Age hand axe which was found on a building site could help prove part of Gloucestershire was once "almost on the seaside", experts have said.
Archaeologists uncovered the finely-worked stone tool, which may be about 100,000 years old, on a housing development in Moreton-in-Marsh.
They said they believed it may have been used by cavemen on the shores of a lake that spanned across the Midlands.
The axe is thought to have been used primarily for butchering large animals.
The tool was found by Cotswold Archaeology earlier this month on the building site at The Fire Service College.
A similar axe was found nearby a few years ago, which experts said made the latest find "hugely significant".
'Great lake'
Neil Holbrook, chief executive at Cotswold Archaeology, said: "Back in the deep distant past, before the Ice Age, there was a huge lake in central Britain covering most of what is now Warwickshire and heading up to Leicestershire, which geologists now call Lake Harrison.
"Moreton-in-Marsh would have been on the southern shore of this great lake.
"Perhaps it's just too much coincidence that we've found these two prehistoric axes in that location.
"I wonder whether these Neanderthals were coming to camp and forage on the shores of the lake?
"Perhaps it points to a time when Moreton-in-Marsh was almost on the seaside."
It is hoped the axe will be put on display in the Corinium Museum in Cirencester.