Stephen Morris: Cheltenham-born James Reichelt review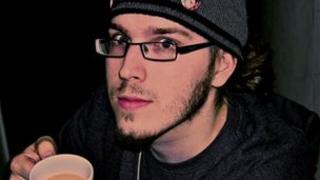 Alone, or 'James Reichelt' as his nearest and dearest probably refer to him, has been doing the musical rounds for a fair old while now.
The Cheltenham-born musician first appeared with 'Several Quiet Moments' all the way back in April 2004.
It was promptly followed by 'Nothing Totally Changes' in August of that year.
And then there was a bit of a break. A seven year break, in fact.
In the intervening time, Reichelt has proved himself slightly wrong.
Nothing totally changes? Well, no. Some things do change: like the appearance of vocals and lyrics on his electronica as well as more rousing, louder tunes and the sound of guitars adding to the mix.
Welcome to 'Fizzing', a six-track mini-album featuring a blend of instrumental tracks and songs.
The songs on this offering betray something of an existential crisis with lines like "how could we understand a universe this big" ('Flat Earth Society').
'Splendour and magnificence'
Elsewhere, the lyrics appear a little more impenetrable.
See, for example "emotion between two lights that play fluorescent ghosts across the house" ('Fizzing', the title track).
Any translations will be gratefully received.
The general sense of 'Fizzing', the album, seems to be an awe of the splendour and magnificence of the universe, combined with the flip side, a fear of entropy (check the title 'The Heat Death of the Universe' for more details) and recognition of one's own insignificance in the grand scheme of things.
Each piece blends seamlessly into the next, leaving you tricked into thinking you are listening to just one long track.
Nevertheless, each track does come with its own characteristics and highlights.
Such as 'Today is Going to be a Busy Day', which bustles around with all the busy-ness you might expect from such a title.
'Welcome return'
There are hints here of Brian Eno's recent 'The Drum's Between the Bells'.
In 'Fizzing', Reichelt has shown an evolution in his sound.
The mood pieces of old have developed from straight forward atmospheric electronica, taking on prog influences and, of course, adding the vocal elements.
It's a welcome return to form - and beyond - from this vintage games console aficionado.
Great stuff.