Kate Prout murder: radar used in body search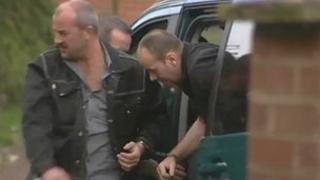 Police are searching woodland in Gloucestershire for the remains of murder victim Kate Prout.
On Friday her husband Adrian took police to Redhill Farm, Redmarley, to show them where he had buried her body.
A police spokesman said officers were searching an area identified by Prout using ground-penetrative radar.
Prout was jailed for life in February 2010 for her murder following a trial. Police said he had now admitted the killing.
"Some 15 detectives are onsite and these include scenes of crime officers and forensic archaeologists," the force spokesman said.
"They are searching an area of approximately 10m by 20m (33-66ft). The search is ongoing and will continue until something is found."
Earlier on Monday morning four police vehicles arrived at the site.
Many footpaths in the area have been closed while the investigation continues.
A wooded area on the 276-acre farm remained under tight police guard during the weekend.
'Divorce settlement'
On Thursday, police said they had received "significant" new information about the case.
Det Supt Simon Atkinson said Prout had admitted to detectives that he murdered Mrs Prout - something which he had always denied - and has now suggested that he disposed of her body on Redhill Farm.
Former teacher Mrs Prout disappeared the day after she asked her husband for a £800,000 divorce settlement.
The last time anyone heard from her was on 5 November 2007 when she called her bank, First Direct.
Prout, who owned a pipe-laying business and commercial pheasant shoot, had said he would need to sell £1.2m Redhill Farm to pay the settlement.
Instead, he offered her £600,000 plus maintenance.
Prout reported his wife missing on 10 November. Her wallet and credit cards, shoes and clothes were all left behind.