Bronze Age hoard found in Wiltshire field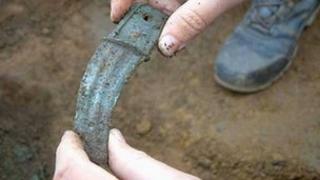 A Bronze Age hoard of more than 100 objects dating back over 2,700 years has been discovered in west Wiltshire.
The objects, including weapons and tools, were found in October in a field near Tisbury by a metal detectorist.
His initial find, a spearhead, was reported to a finds liaison officer and the site excavated by archaeologists.
Adrian Green, from the Salisbury and South Wiltshire Museum, said "it's the biggest hoard found in the county since the Salisbury Hoard in the 1980s."
The Salisbury Hoard, which included more than 500 objects from the Iron Age and Bronze Age, was discovered in 1986 near the city.
It was found by a metal detectorist who disposed of the artefacts to a local dealer. Almost a third of the pieces are still unaccounted for.
The recent hoard discovery, according to Mr Green, was the "complete antithesis".
'Find of a lifetime'
"The detectorist found a spearhead first but rather than dig it all up he reported it to Katie Hinds from the Portable Antiquities Scheme," he said.
"A team of archaeologists then excavated the remaining objects and recorded how they lay in the ground.
"The finder hasn't been metal detecting for that long but he has been very lucky - and this is the find of a lifetime - but he did the right thing."
The objects, including axe heads, chisels, sickles, gouges, spearheads, daggers and swords, are due to be moved to the British Museum for assessment.
An inquest will also be held to determine whether it is Treasure Trove.
The "fresh out of the ground" artefacts will be on display at the Salisbury and South Wiltshire Museum until 26 November.