Forest of Dean wild boar census to estimate numbers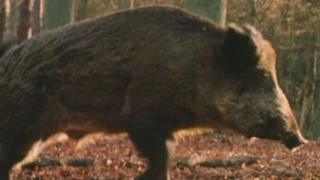 A census is to be conducted by the Forestry Commission in a bid to estimate the wild boar population of the Forest of Dean.
Night vision technology is being used to monitor animal numbers, to help decide on cull targets for 2012.
The commission said the November census was the first statistically-reliable counting methodology used and the results would be reported in February.
It estimates there are currently up to 350 boar in the forest.
Police requests
Ian Harvey, of the commission, said the census was a starting point for setting cull levels.
"Once we have an estimate of a minimum number of animals we will be able to judge how much culling we need to carry out," he said.
Between April 2010 and March this year, Forestry Commission rangers culled 123 wild boar.
The target for 2011-12 was set for 150 animals. But since April, 154 animals have been culled or have died in road traffic accidents.
For the rest of the year rangers will only shoot injured boar at the request of police.
Campaigners from the Friends of the Boar group welcomed the census but said their campaigns and petitions for a seasonal protection for the animals would continue.