Chemical explosion fear evacuates Staverton factory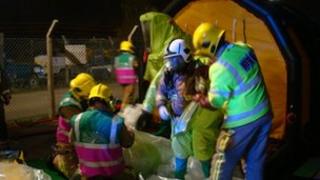 A Gloucestershire factory was evacuated amid fears a drum of chemicals would explode.
About 37 firefighters were called to the Dowty Propellers factory in Staverton at about 15:30 BST on Monday.
They found a chemical reaction taking place inside a drum, threatening to burst it.
Firefighters managed to cordon off the vessel and cool it down, preventing it from spilling.