Gloucestershire engineering firms struggling to recruit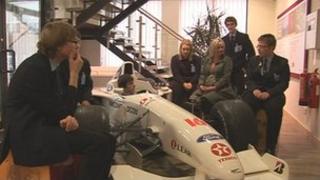 Unemployment is on the rise across the UK. Yet in Gloucestershire there are hi-tech companies who say they cannot find enough skilled workers.
One advanced engineering company, Moog, in Tewkesbury, has seen its profits grow by 30% this year. But to keep up with increased demand, they have to rely on overtime.
Moog's regional manager Steve Darnell puts it down to perception.
He said: "We need to change the way young people think about engineering."
The company makes precision control valves for Formula 1 cars, helicopters and aircraft. Their products are small, literally worth more than their weight in gold.
They convert the push of a button into the hydraulic force that operates brakes, kick-starts engines, even closes the Wimbledon roof.
Whenever Airbus or Boeing sell a new plane, Moog gets another order.
This year, despite the economic downturn, planes have been selling well. Their valves are also now standard on Formula 1 cars.
Despite their success, Moog still finds it hard to recruit.
Mr Darnell said: "We have a shortage of all types of engineers. Production engineers, manufacturing engineers, we're looking for all types of people and we're short of all of them."
It is a familiar story. In Wotton-under-Edge, another hi-tech company, Renishaw, has been struggling to fill engineering vacancies for a year now.
Across Gloucestershire, firms report a lack of skilled technicians and graduate engineers alike.
So the county's business leaders have come up with a solution.
Secondary schools will be "twinned" with local companies to give both students and their teachers first-hand experience of this kind of advanced manufacturing.
Initially five schools have been twinned, and Tewkesbury School has paired up with Moog.
Every week, teachers and students will go into the factory and have a go at making valves, testing actuators, or seeing the backroom staff that support the engineers.
Perhaps not surprisingly, the students I met were impressed.
The first to come through are interested in science and engineering and seeing the factory made them realise what a career might look like.
Sixteen-year-old Ben Freke, who loves Formula 1, said: "Seeing the valves that they use on the actual cars is really cool.
"It makes you realise you could actually get a job in this industry."
Hannah Noble, 17, liked the variety of the work she saw. She said: "People often think factories are a bit dull and monotonous, but there's lots of different jobs you can do here."
The scheme is the brainchild of the Local Enterprise Partnership, led by Diane Savory.
For 20 years she led the designer clothing brand Supergroup, so she understands the importance of prestige.
"We want to show engineering can be exciting and quite sexy," she said.
"Formula One cars, the Wimbledon roof, these cool things are happening in Gloucestershire and not a lot people know about them."