Gloucestershire waste facility consultation 'secret'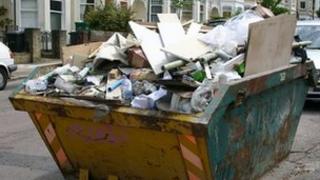 A consultation over a waste incinerator near Gloucester was conducted "in secret", a councillor has claimed.
Tory-run Gloucestershire County Council wants an Energy from Waste (EfW) incineration facility to be built near junction 12 of the M5.
Liberal Democrat Roger Whyborn, a councillor at Cheltenham Borough Council, added the authority should look at alternative technologies.
A county council spokesman said it had run an "extensive public consultation".
'Best value'
Councillor Stan Waddington, the county council's waste champion, said parts of the process had been kept from the public.
"The process has to be confidential to reflect the nature of commercial information supplied by the bidders," he said.
"The whole purpose of the evaluation criteria is to ensure that the people of Gloucestershire get the best value from their procurement, both financially and environmentally, something we as a council are fully committed to."
Mr Whyborn, Cheltenham Borough Council's member in charge of waste, claimed some councillors had been unable to find out facts about the project.
"They've had a very long process but a great deal of the real consultation has gone on in secret," he said.
"Opposition members on the county council have not been able to get proper access to facts and figures. We really don't know how they've arrived at the decision they've arrived at.
Similar technology
"We've been increasingly concerned all this year and it's only since we've been able to see for ourselves that there are alternative technologies that we've found it necessary to speak out."
The county council is expected to decide later this month which firm will win a 25-year contract to process waste at the proposed EfW site.
More than 5,000 people signed a petition in 2010 opposing the plans.
Several exhibitions were held recently in order for residents and organisations to learn more about each bidder and the technology behind the proposed facility.
The Liberal Democrats have called on the county council to consider a similar technology to that being used in Bristol which sorts waste for recycling.
A county council scrutiny committee in March dismissed Lib Dem claims the decision to build an incinerator was "flawed".