Gloucestershire fire chief criticises M5 bridge closure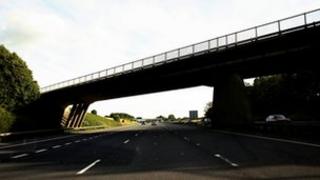 A planned year-long closure of a motorway junction bridge on the M5 in Gloucestershire has been criticised by the head of the county's fire service.
Last month The Highways Agency announced plans to shut the bridge on the A4019 west of Cheltenham.
Gloucestershire's chief fire officer, Jon Hall, said it "will slow attendances" for emergency calls.
A Highways Agency spokesman said the bridge was approaching the end of its working life and action was needed.
Mr Hall said he was concerned that the closure would make it slower to get to incidents to the west of the M5, and to incidents on the northbound carriageway of the motorway itself.
"You wouldn't expect me to approve of something that created, for example, a three minute delay in attendance to a house fire," he said.
Mr Hall said the fire service was now in discussions with the Highways Agency to see if another plan could be drawn up.
The Agency said £12m of "urgent repairs" to the bridge, one of the main routes between Cheltenham and Tewkesbury, were required.
Previously, Tewkesbury Borough Council and Cheltenham Borough Council also expressed concerns that the closure would have a serious affect on the residents, visitors and local economy in both towns.