Gloucestershire council leader's Europe waste trip questioned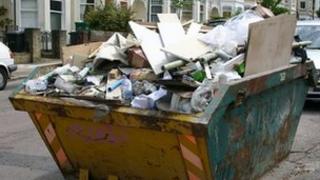 It is "incredible" Gloucestershire council's leader "and his buddies" have found time to visit European waste plants, opposition councillors claim.
They visited incineration plants in Spain and Belgium - similar to a proposed unit at Javelin Park.
Lib-Dem group leader Jeremy Hilton suggested they could have visited sites in the UK.
But council leader, Tory Mark Hawthorne, said the trip was important to see how emissions were monitored.
Mr Hawthorne and his fellow Tories visited waste incineration plants run by Complete Circle in Belgium and to a consortium site run by Urbaser and Balfour Beatty in Spain.
Both companies, which funded the councillor's travel expenses, are bidding to build an Energy from Waste (EfW) incineration facility, near junction 12 of the M5.
'Emissions controls'
"No-one would buy a car without seeing it," said Mr Hawthorne. "I'm not going to buy a multi-million pound waste plant without seeing what the bidders have to offer.
"We looked at waste plants operated by both of the remaining bidders for Gloucestershire's residual waste project.
"It has helped me to ask questions about things like emissions controls, lorry movements and smell - all key issues."
However, Mr Hilton said a better use of Mr Hawthorne's time would have been to visit Bristol City Council's Mechanical Biological Treatment (MBT) plant in Avonmouth.
"It seems an all-expenses paid trip to overseas locations is more attractive to the Tory administration than doing ones homework on residual waste technology here at home," he said.
Public exhibition
A council spokesperson said visits were made to MBT plants earlier in the selection process, before the decision was taken to go with EfW as the chosen method of recycling waste.
The county council is expected to decide later this month which firm will win a 25-year contract to process waste.
More than 5,000 people signed a petition in 2010 opposing the plans.
An exhibition was held in July in order for residents and organisations to learn more about each bidder and the technology behind the proposed facility.
A second exhibition will take place at Javelin Park over the weekend to update residents and organisations, and offer a final opportunity for opinion before a planning application is submitted by the successful bidder.