South Gloucestershire Council accused of recycling bag shortage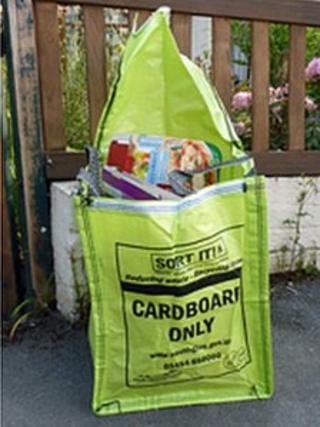 South Gloucestershire Council has been accused of failing to provide enough recycling bags for cardboard waste.
Liberal Democrat councillors on the Tory-led council claim that fewer than half bags needed for the district's households were ordered.
They also say that distribution of the new bags has been "haphazard, inconsistent and unpredictable".
The council admits it has been "a big logistical undertaking" but says it did not run out and has bags available.
The authority began collections of cardboard, plastic bottles and food waste last November.
Initially residents were asked by the council to leave cardboard under bins or recycling boxes for collection.
But following concerns about the the mess made by cardboard collections blowing into the road, the council ordered 40,000 cardboard recycling bags.
Councillor Dave Hockey, the Lib Dem waste spokesperson, said "the initial distribution was haphazard, inconsistent and unpredictable".
"Many people were unaware the bags were ready to collect, as the council didn't tell them, and by the time they found out the bags were gone.
"Now the council's website has finally been updated with the simple truth that they've run out and cannot tell people when they will get more."
But Councillor James Hunt, Conservative executive member for communities, said "at no stage have we run out of bags".
"We underwent a massive media campaign and we got everything out to as many people as we possibly could and the simple truth is, is that the bags are still available.
"We haven't run out - we've still got just under 10% of the bags available and if you ring up the council helpdesk you can have one delivered to your home."