Gloucester buskers told to 'tone down' performances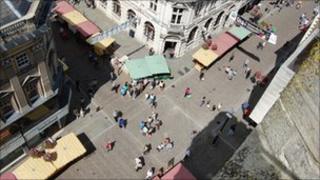 Buskers in Gloucester can continue to perform in a key part of the city but only if they tone their volume down.
The guidelines have been announced by the city council following a public debate about "noisy" buskers.
A number of complaints had been made by local business owners saying performers at The Cross were too loud.
Amplification is still allowed but only from battery-powered equipment, and markers could be used to ensure sound does not travel over 50m (164 ft).
'Noise nuisance'
Last month the council led a public consultation to invite views on whether amplified performances in that part of the city centre should be banned.
According to the authority the results were "almost a straight split" and what is being offered now is a good compromise.
Paul James, council leader, said: "We will make these changes to our voluntary code of conduct for buskers and will also point out that we will look at making greater use of legal powers concerning noise nuisance for buskers who ignore the rules and cause problems.
"For the longer term we are also considering introducing a busking 'licence' which will mean performers going through an audition process to meet the criteria and quality levels that we want to see in our city centre."
"There is no doubt that buskers add colour and vibrancy to the street scene. But there is a line between entertainment and annoyance that we have to ensure they don't cross."