Protest over Gloucester boundary reform plans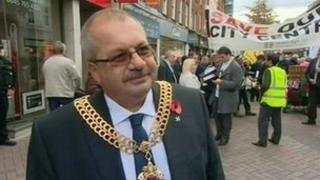 A protest has taken place over plans to put part of Gloucester city centre into another parliamentary constituency.
The Westgate area, which includes the cathedral, would become part of the Forest of Dean seat under the plans.
The change was proposed as part of the independent Boundary Commission's review into constituencies.
One of the protesters was the Mayor of Gloucester, Councillor Andy Lewis. He said the proposals were "absolutely bonkers" and "made no sense".
'Doing their best'
"We have a 2,000-year-old city and we want to stay where we are.
"Taking the guts out of the centre of Gloucester just doesn't make any sense.
"I'm going to see the Boundary Commission on Monday along with the city's MP and the Dean of Gloucester and we are going to put some proposals forward.
"We want to tell them the reasons why we think Gloucester should stay in Gloucester."
Professor Ron Johnston from the University of Bristol told BBC News the boundaries were a difficult issue to get right.
"They are sitting there with maps in front of them and are doing their best to meet the arithmetic constraints but also to provide seats which as far as possible match into communities.
"There is a hearing on Monday in Bristol and people will no doubt travel there to make their case against the proposal, and coming up with options and hoping the commission will take these into account and come up with something different."
The Local Government Boundary Commission for England is responsible for administering local government electoral arrangements and keeping the map of English local government in good repair.