Gloucester Greyfriars site redevelopment plans approved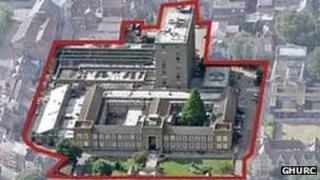 Major regeneration plans for a six-acre derelict site in Gloucester city centre have been given the go ahead.
Linden Homes wants to build 254 homes, a cafe/restaurant, health centre and public spaces on Gloucestershire College's former site at Greyfriars.
Paul James, leader of Gloucester City Council, said it was the "single most important development" to bring people back to living in the city centre.
Gloucestershire College left the site in 1997 to move to its Docks campus.
As part of the plans, consent has also been given to demolish the 1930s front of the old college building - a view which has a sentimental attachment for many local residents.
Mr James said: "If that 1930s building had been retained it would have made the development of the rest of site, in a commercially viable way, unachievable.
He added that the main doors and the crest - two of its most attractive features - would be incorporated into the new development.
The planning consent lasts for three years but contractors are already on site and have been carrying out some demolition of non-1930s buildings, including the old college tower.