Halloween mask robbers raid Gloucester bookmaker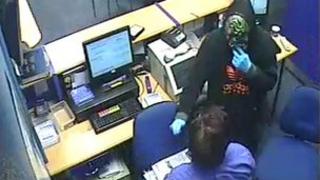 Armed robbers in Halloween masks have stolen hundreds of pounds from a bookmakers in Gloucester.
Police said the three robbers threatened the male worker with a table knife and hammer at the shop in Holmleigh Parade in Tuffley.
They took about £400 from the tills and safe, a police spokesman said. The robbery happened soon after 20:00 BST on Saturday.
The force is appealing for information. Nobody was injured in the raid.