Swift and Bold Appeal wristband appeal reaches £100,000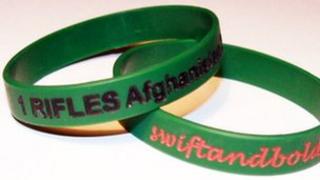 A wristband campaign to help Gloucestershire soldiers injured in Afghanistan has raised £100,000.
The Swift and Bold Appeal wristbands, which feature the 1 Rifles regiment motto, went on sale in January.
Maj Alexander Price, from 1 Rifles, said the money raised from the sales was a real morale booster.
"It's not just about the peace of mind... it represents the great deal of support we are getting from the public," he said.
'Not alone'
He added: "They know they have material and physical support there if they are to get injured.
"But they also recognise they are not doing this alone and they are not doing it without any recognition or support."
More than 500 troops based at Beachley Barracks near Chepstow are coming to the end of their six-month tour of duty in Afghanistan.
The battalion's homecoming will formally be celebrated on 17 November with a march through the streets of Chepstow.
The battalion wlll then receive the Freedom of the Town in recognition of its dedicated service to the country.
Hundreds of people are expected to line the streets to show their support and appreciation.