Oldest steam dredger at Gloucester Docks to be repaired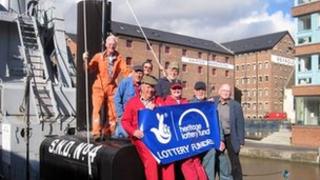 The oldest working stream dredger in Europe is to be repaired after an award of cash from the Heritage Lottery Fund.
The Friends of Gloucester Waterways has been given £43,300 to replace boiler tubes on Dredger SND number 4, which is moored at Gloucester Docks.
It was built in Holland in 1925, and had been in operation as an attraction at Gloucester Waterways Museum until earlier this year.
Spokesman Chris Witts said it would be a "day to celebrate" once mended.
'Looked sad'
The vessel operated regularly at Gloucester and Sharpness Docks until 1981, when she was was replaced by an diesel electric dredger.
She has been on display at Gloucester Waterways Museum ever since it opened in 1987.
Vice chair of the Friends of Gloucester Waterways, Ken Dunn, said: "It was a sad day when we realised that without external funding the old girl would not work again."
Chairman Chris Witts, said, "There is nothing worse than a dead ship, our dredger looked sad as she lay at her berth in desperate need of attention.
"Now we have a future, both for the dredger and the museum.
"It will be a day to celebrate when once again we see SND No 4 in steam again."