Wingmoor Farm waste expansion plan challenge fails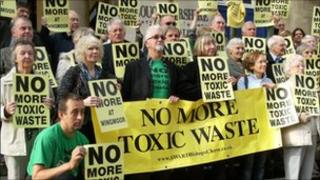 The government has declined to intervene over the planned extension of a landfill site in Gloucestershire.
Last month the Conservative-controlled county council's planning committee approved plans to extend the use of Wingmoor Farm, near Bishop's Cleeve.
But councillors were presented with more than 1,200 letters of objection and the Liberal Democrat candidate for Tewkesbury wrote to the government.
Alistair Cameron urged the secretary of state to re-examine the decision.
However the Department of Communities and Local Government has told the prospective parliamentary candidate that his request has been rejected.
During a five-hour planning meeting on 22 September, the chairman of the council's planning committee made a casting vote in favour of the application by Grundon Waste Management Company.
This led to campaigners pledging to write to the secretary of state to ask for the decision to be "called in".
The eight waste sites in operation at Wingmoor Farm are regulated by the Environment Agency.
In 2009, there were more than 15,000 people living within two miles (3.2km) of the site.
Waste dealt with at the Wingmoor Farm complex includes hazardous and non-hazardous material, clinical waste, food, garden and paper recycling.