Gloucestershire Airport's last wartime hangar revamped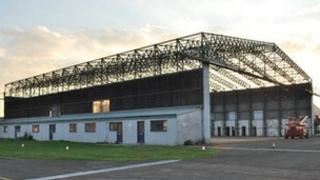 The last remaining wartime hangar at Gloucestershire Airport is being restored 70 years after it was built.
Hangar SE3, which was once used by the historic Gloster Aircraft Company for storage, is being developed into a new facility for a local flying school.
Despite its age, the steel structure is reported to be in a very good condition and engineers believe the hangar could last for many years.
It once housed Hawker Typhoon and Armstrong Whitworth Albemarle aircraft.
Built in 1941, the hangar was used by the Gloster Aircraft Company to store jets that were produced in nearby Brockworth and then test flown and landed at the Staverton site.
Then, during the 1950s and 1960s, the hangar was used by Smiths Industries for its fleet of test aircraft as it developed such technologies as fully automated landing.
'Soulless tin shed'
Now, the 21,000 sq ft hangar is being refurbished by Skypark UK, which owns Staverton Flying School, to include modern office facilities and giant glass doors.
A spokesman for Skypark said the historic building was due to be demolished and replaced with a "soulless tin shed" but its work would retain the character of the building and add a "striking modern exterior".
Darren Lewington, head of operations at the airport, said: "There's an immediate need for high quality hangarage and this facility will be second to none.
"This is the largest, tallest hangar at the airport, capable of housing a wide range of aircraft types."
Work is under way on the airport's £4m Runway Safety Project to extend the main runway and improve safety at both ends, making the airport more accessible to commercial business flights.