Gloucestershire cat rescue calls for law change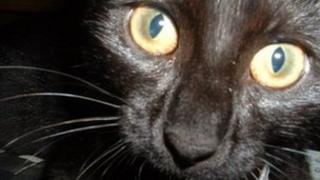 Motorists should be required to stop and tell police if they run over a cat, a Gloucestershire charity says.
Under current legislation, there is a legal obligation to stop and report road accidents involving dogs or farm animals - but not wild animals or cats.
Last week, New Start Cat Rescue in Hempsted launched an e-petition to get the Road Traffic Act (1988) amended.
Susan Cowlishaw, from the cat rehoming charity, said they were "just asking people to show a bit of common sense".
She said: "You know when you've run something over on the road and people just tend to drive by.
"But if they just stopped and put the cat on the side of the road - it would just be so much nicer for when the owner eventually finds the cat.
"Can you imagine what it's like to scrape your family pet off the road when it would be so easy, if you had knocked one down, to just put the cat on the side of the road or just knock on the door of houses nearby and see if it's their cat."
The e-petition currently has 88 signatures but has to get at least 100,000 for the issue to be eligible for debate in the House of Commons.