Stroud canal protesters block workforce with minibuses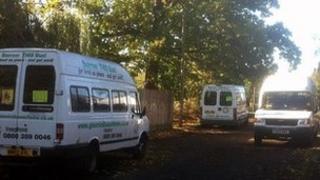 Protesters have blocked contractors from working on a Gloucestershire canal restoration project, by parking three mini-buses in a cul-de-sac.
Workers from construction firm Galliford Try were prevented from driving lorries into Frome Gardens in Cainscross, near Stroud on Monday.
Some local residents say they should access the site from the other side of the canal to prevent disruption.
The parked vehicles formed a chicane allowing cars access but not trucks.
Campaigner Elizabeth Stanley said: "We really do want the work to be done, it's just that they're coming at it from a ridiculous direction.
"The two houses at the bottom of the cul-de-sac, their driveways are going to be blocked off by this work going on."
'Surprised' residents
Construction lorries which were due to drop off equipment for work on a section of canal near Ebley on Monday morning did not attempt to access the site after the company was told in advance they would not get through.
The protesters also claimed that insufficient notice was given that the work would begin.
Spokesman Dave Marshall, from Stroud District Council, which is leading the restoration of the Cotswolds Canals between Stonehouse and Brimscombe, said they were now looking at accessing the site via a different route.
"Whilst we have every legal right to access the canal via the public highway, we understand residents' surprise at seeing equipment turn up unannounced.
"This was due to the contractor mistakenly not advising them in advance, as he is required to do.
"To mitigate the problem, we are looking at accessing the canal over land at Ebley Wharf, which was due to be redeveloped.
"We are in discussion with the owner about this and if it comes to fruition, it will remove much of the disruption to Frome Gardens residents."
The scheduled work is part of an ongoing project to restore to reconnect the River Severn with the River Thames.