Longer lorry trial for UK begins in Gloucester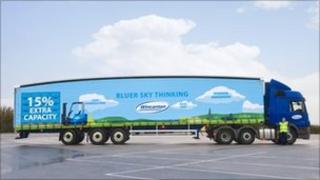 The first of a new type of extra-long lorry has taken to the UK's roads.
Last week the Government gave the go-ahead for a trial of longer commercial vehicles - up to 18.55m (60ft) long.
The first of the longer trucks, operated by haulage company Wincanton based in Chippenham, was unveiled in Gloucester.
It is predicted the trailers will reduce traffic congestion, save fuel costs and increase productivity by up to 15%.
Wincanton's technical director Dave Rowlands said the new super-trucks "could save the transport industry almost £400 million a year and see harmful CO2 emissions reduced by up to 163,000 tonnes annually".
The firm, which is the largest UK-owned logistics company, was consulted by the Department for Transport (DfT) about whether to allow longer trucks onto the UK road network.
The Government trial, which will last 10 years, will monitor 900 articulated lorries using longer 2.05m (6.7ft) trailers, and 900 using trailers that are 1m (3.3ft) longer than the current maximum allowed length. The gross weight limit will remain at 44 tonnes.
Research by Wincanton has predicted the lorries will increase load capacity by an average of 15%, which is equivalent to 40 lots of 32in television sets or 17,000 boxes of aspirin. This will save £85m of fuel each year.
Rail freight operator partnership Freight on Rail, which is against the plan, said it would lead to "six extra road deaths per year".
Spokesperson Philippa Edmunds said: "Local communities could find themselves over-run with these bigger lorries on roads not designed to handle 60ft vehicles, which will make turning very dangerous, a point not even investigated in the Government's research."