Dean Forest Railway praises online fundraising help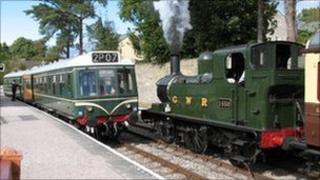 A 71-year-old railway enthusiast has embraced the internet as he raises money for a Gloucestershire charity.
Les Simmons developed online methods of fundraising for the Dean Forest Railway after becoming computer savvy himself.
Charity supporters are encouraged to buy goods online via a website which returns a small percentage of the deal to the heritage railway.
A railway spokesman said Mr Simmons' input was vital as his online competence had been of great advantage.
"We're constantly looking for funds because it's a very expensive operation to run these days," said Bob Morris from the DFR.
"It's all these individuals carrying out tasks as Les does, with 100% competency, that makes our life in running the railway relatively easy because you know you can rely on them."
'Convenient'
Mr Simmons learned how to use the internet so he could control all his household finances online.
He then applied the same knowledge to his voluntary work to help preserve the railway for future generations.
"I control all the household finances online, from banks to credit cards to research and investments," he said.
"It's much more convenient. I do it sat at home in my time and it saves an awful lot of time."
Mr Simmons is supporting the BBC's Give an Hour campaign which, on the last weekend in October when the clocks go back, is challenging everyone in Britain to donate their extra hour to introduce someone new to the internet.
He will give an hour's tuition to his wife, Linda, who wants to become more proficient with the internet for her role as chairwoman of Highnam Quilters.
"I do need to keep in email contact with everybody - I am able to send one and receive one, but that is about the extent of my capabilities at the moment," said Mrs Simmons.
The campaign aims to mobilise the UK's 30 million daily internet users to help somebody they know understand and enjoy the benefits of the internet, with a particular focus on those aged over 55.