Prestbury war memorial in Gloucestershire vandalised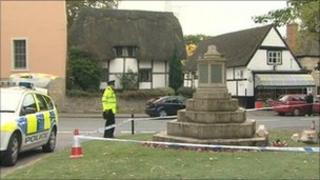 A war memorial in a Gloucestershire village has been knocked over and smashed into pieces.
Police were called to the High Street in Prestbury late on Friday evening following reports of the damage.
Sgt Mark Stephens said a dog walker saw a woman taking a photograph of two men standing by the memorial and when he passed it again it was smashed.
The War Memorials trust said it would contact the community with advice and said grants for repairs were available.
"It's unclear how the damage happened but detectives are conducting house-to-house inquiries," Sgt Stephens said.
"This damage will have a significant impact on the residents of Prestbury and also the wider Cheltenham community.
"It's particularly poignant as we are so close to Remembrance Sunday when a great many people attend the Prestbury service held at the memorial to honour those who have fallen in service of our country.
"The community can be assured that I will ensure every possible line of enquiry is fully investigated to determine how this damage happened and if it were malicious, to bring those responsible before the courts," Sgt Stephens added.
Frances Moreton from the War Memorials Trust said the organisation deplored any damage to memorials but acknowledged it did happen fairly often.
"On average we get one report a week of graffiti, vandalism or theft," Ms Moreton said
"There are grant schemes to help repair the memorials and we will be getting in touch with the community to offer advice and assistance."
Alice Wiggins, who works in the Prestbury Village Stores, said people coming into the shop had been talking about it all morning.
"I walked past it earlier, the whole top of it's been smashed up. It's lying on the ground," she said.
"We've had the police in too, looking at the CCTV."