Off-duty police officers save man at Cheltenham cinema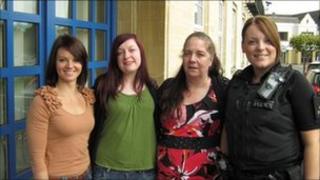 The wife of a Cheltenham man whose life was saved after he collapsed at a cinema in the town has called for more public defibrillators.
Anna Clifford, 56, said if it had not been for the quick thinking of two off-duty police officers her husband Roger, 60, would not have survived.
PC Emma Tandy, 25, and PC Kim Durrant, 26, began CPR and told cinema staff to search for the life-saving equipment.
One was found in a next door gym which was used to shock Mr Clifford.
He was taken to Cheltenham General Hospital for treatment.
Mrs Clifford was told her husband would have died that night if was not for the quick thinking of the two officers.
Controlled shock
She said: "We were lucky that not only was there one of these machines near by, but also that Emma and Kim thought to ask for one and that they knew how to use it.
"We know from personal experience how invaluable defibrillators are and appeal for more to be made available in public places so that should anyone need one, like my husband did, they have the best chance of living to see another day."
PC Tandy is part of the Cotswolds local policing area, while PC Durrant works for the Thames Valley force.
Automatic external defibrillators (AED) are housed in many public locations.
The machine delivers a controlled electric shock via two pads stuck on the victim's chest if their heart has stopped beating correctly.