Painswick schoolboy wins wildlife photography award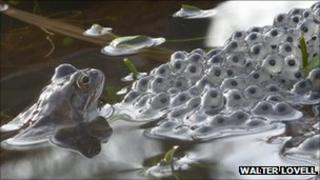 A Gloucestershire schoolboy has won one of the top prizes in the British Wildlife Photography awards.
The shot of a frog checking its frog spawn was taken by eight-year-old Walter Lovell, from Painswick.
His photo was chosen by judges to be the best in the up to 11 years of age category.
He said he knew immediately "it was the one" as soon as he had taken the photograph in his back garden last March.
Walter said he was particularly pleased with his picture and "liked the way the light reflected off the water".
He now wants to become a professional wildlife photographer and "to travel the world taking pictures of animals".
All this year's winning photographs in the British Wildlife Photography Awards can be seen on the BBC Nature website.