Judicial review threat to NHS Gloucestershire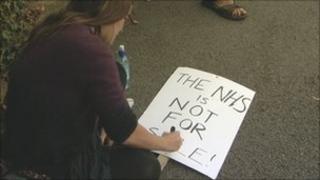 Legal action is to be taken against NHS Gloucestershire over its decision to change the way health services are run.
Michael Lloyd, from Stroud, wrote to NHS bosses threatening a judicial review if the decision was not withdrawn before 22 September.
From October a new social enterprise is due to take over management of county hospitals and various health services.
Hundreds of campaigners gathered in Stroud on Saturday to march in protest at the changes.
Caroline Molloy, of Stroud Against Cuts, said the group wanted t give staff and service users some hope that the decision could be stopped.
"We have been advised that NHS Gloucestershire is acting unlawfully. It cannot just hand over all its NHS Primary Care Trust services to an unaccountable 'Social Enterprise' or 'Community Interest Company'," she said.
An interim injunction will also be sought to stop the proposed transfer of services taking place on 1 October as planned.
But Jan Stubbings, chief executive of NHS Gloucestershire, said all applicable policy and guidance had been followed in making this decision.
"We now have a clear direction with the majority of our community health services becoming part of a social enterprise - working in the community interest and for the social good," she said.
"It is important to stress that NHS patients will continue to access NHS-funded community services, close to home, run by an organisation responsible for delivering the NHS values."