New portrait of The Queen unveiled by British Legion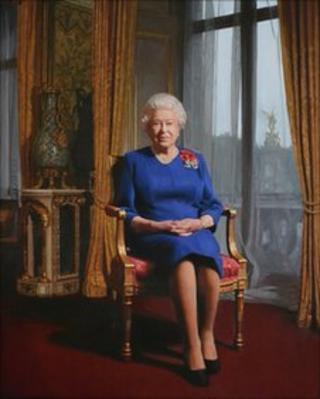 A new portrait of the Queen has been unveiled in London at a service to commemorate the 90th anniversary of the Royal British Legion.
Gloucestershire-based artist Darren Baker created the portrait which includes Remembrance detail such as the Queen wearing a spray of five poppies.
The Princess Royal attended a service at Westminster Abbey which took place before the painting's unveiling.
The Queen has been patron of The Royal British Legion since 1953.
Mr Baker, a fine artist from Moreton-in-Marsh, has created a realistic portrait which gives the impression of being more like a photograph than an oil on canvas.
He said: "I felt a great sense of responsibility in completing this commission and following in a great line of royal portrait painters.
"My aim from the outset was to create a portrait that would capture the grace of our wonderful monarch whilst incorporating the essence of the Legion."
'Remarkably realistic'
In the detail of the painting The Queen's wristwatch is set to 11:00, representing Remembrance.
"I studied previous portraits of The Queen and drew on my knowledge of historical royal portraits from western European art," added Mr Baker.
"I visited the room where the sitting took place several times and I was struck by the way light filled room and accentuated the historic and regal objects."
The national president of The Royal British Legion, Sir John Kiszely, said the portrait was "one of the most remarkably realistic portraits of our Monarch this century".
He added that it represents the "special relationship" between The Royal British Legion and The British Monarchy and they were honoured The Queen agreed to sit for the portrait.