Forest of Dean campaigners want wild boar culling rules changed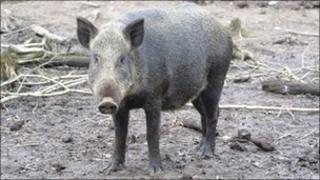 Conservationists in the Forest of Dean are calling for a change in the rules on the culling of wild boar.
At the moment, the animals can be killed all year but the Friends of the Boar group wants a closed season.
The group has launched a petition to "protect breeding females and their young", saying the boar is generally "persecuted and unfairly treated".
A Forestry Commission statement said the issue was led by government policy and best practice guidance.
Breeding season
"Forestry Commission policy is not to shoot sows with young at hoof - this is effectively a 'rolling' close season," added the spokesperson.
"The issue is dealt with in the Draft Management Plan for Wild Boar that has been prepared over the last year and is being consulted on prior to presentation to the Verderers of the Forest of Dean for approval this autumn.
"Because wild boar have a prolonged breeding season, producing young throughout much of the year, there is no obvious breeding season and so no closed season."
Defra policy states that primary responsibility for feral wild boar management lies with local communities and individual landowners.
In 2009, the Forestry Commission carried out a survey which found there were about 100 wild boars in the Forest of Dean, but the group suggest numbers could be lower.
Population increase
"When you start to over-cull any mammal population, they come into season much more quickly and will start to have more and more piglets a year," said David Slater from the Friends of the Boar group.
"So therefore [the] culling of them creates the problem of population.
"The culling seems to be going on a numbers only basis.
"There's no scientific method being employed. We believe that in a well-managed animal population it should be based on facts."
In medieval times, boar from the Royal Forest were supplied for the King's table - there is a record of an order for 100 boars and sows for a Christmas feast in 1254.
Boar are thought to have become extinct in Britain not long after this time.
They became feral in the Forest of Dean after some escaped, or were released, from a farm near Ross on Wye in 1999.