Waterways archive to move from Gloucester museum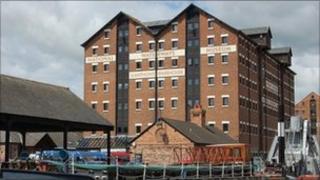 The archive at Gloucester's waterways museum is to be moved to the National Waterways Museum in Ellesmere Port.
Documents including canal company records, maps and photographs will be moved out of Llanthony Warehouse at the end of the year.
Some of the records date back to the 18th Century.
Collections manager, Peter Collins, said they had long been aware that storage conditions in Gloucester were "inappropriate".
"At the National Waterways Museum we will be expanding the existing archives to accommodate the re-located records and redeveloping the research and reading area to give greater physical access," he said.
Gloucester Waterways Museum lost its "national" status earlier this year.