North Cotswolds railway line re-opens after £70m revamp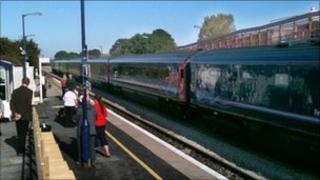 A £70m project to enable the North Cotswolds railway line to run on two tracks has been completed.
The scheme, which has taken two years to complete, means tracks now run in both directions between Worcester and Oxford, through Moreton-in-Marsh.
Network Rail says the introduction of the second track will "improve train punctuality, reduce journey times and allow more services".
The original two-way line was ripped up in the 1970s.
Problems with over-running signalling work meant a reduction in services and a replacement bus had to be used on certain services earlier, and will affect the time table for the next few days.
Delays 'minimised'
However, project manager for Network Rail, David Northey, said he was "very pleased" the project has been completed.
"It means a lot to rail passengers," he said. "It means over the next few years we'll have a much more robust and strong timetable.
"It is unfortunate that the first few trains this morning haven't been able to run, but buses have been put on and some trains have been diverted through Cheltenham to try and minimise delays," he added.
The line from Ascott-under-Wychwood to east of Charlbury, and from Moreton-in-Marsh to Evesham now has a 21 mile-stretch where there are two tracks.
New platforms and foot bridges have also been built.
The North Cotswolds line is a particularly congested part of the railway, which means even small delays tend to have a huge impact on rail services in the area.