Cheltenham artist Dan Young creates 1000 paintings in 1000 days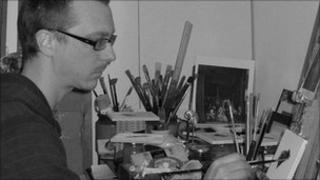 An artist who set himself the challenge to create an original painting everyday is completing his 1000th work.
Dan Young, a tutor at the University of Gloucestershire, started his paintings in November 2008 and has painted one daily, since.
Inspired by everyday objects, his art includes images of toys, half-eaten biscuits, iPods and cobwebs.
To mark completing his 1000th painting on Friday, the artist is painting a picture every hour for 12 hours.
Mr Young, a Cheltenham-based artist, originally only had a year-long plan to produce an oil painting each day.
However, after reaching his goal in November 2009 he felt he had "no plans to stop".
"I don't want to say it's addictive because I think I could stop if I really wanted to but I don't want to," he said.
Painting in a converted spare bedroom at his home, Mr Young has "picked an object" every day for nearly three years, painted it and posted it on his blog.
The objects include everything from a slice of strawberry gateau, his own thumb and Russian dolls to a slice of bacon and chicken poo.
"They relate to things that happen in my day," he said.
"Every now and again I'll go out looking for things but you eat food everyday and so I do end up painting a lot of food."
The artworks are being sold on an online auction website to collectors in Australia, America, Japan and Slovenia.
"In the first year I was selling them usually within a week," he said.
"They were still wet and I'd sold them to someone - which was brilliant."
Champagne painting
Despite the daily challenge, the artist said there has only been a couple of days when he "came close to not doing it".
"One night my partner cut her finger and we had to go to A&E but luckily we got out at 11:30 so I managed to get home," he said.
"I think I painted a bit of plaster that night."
Mr Young hopes to reach his "huge milestone" at 2100 BST on Friday, and said he would be celebrating.
"I will certainly celebrate in some form or another and I may paint some bubbly," he said.