British Waterways to auction off Gloucestershire homes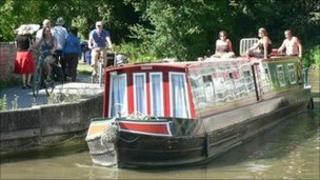 British Waterways' plans to sell 19 cottages in Gloucestershire have left the tenants concerned about the future.
The Sharpness homes will be auctioned next month to a private investor after plans failed to offload them to the council or a housing association.
Tenants say they are unable to buy their own homes and are concerned that there is no guarantee a responsible landlord will take on the properties.
British Waterways insists the existing tenancy agreements will be protected.
The intention to sell the properties on Severn Road and Great Western Road was first raised in October 2009.
Since then British Waterways has considered a number of options but believes a single sale of the properties to a private investor is the best way forward.
'Evict them'
Terry Parsons, chairman of the residents association, said: "It's an unknown future for the tenants of these houses."
"There are four residents who have security and protection under the rent acts but the remaining houses are let on monthly tenancies.
"These people are now being threatened with a new landlord who could evict them within a month of buying the property."
John Annis, a tenant, said it was a very close-knit community with a lot of elderly residents who have lived there for years.
"Most of the properties will need refurbishing, carpeting and redecorating and a lot the gardens are a bit of a mess so there would be a lot of additional cost," he added.
"I don't know, in this climate, if anyone would be prepared to take on the whole area as a job lot."
In a statement, British Waterways said: "Nobody is being asked to leave their homes, as all of them will be sold subject to their existing tenancy arrangements.
"Although our intention is to sell the properties as one single lot, if it transpires that there are no buyers for the properties as a block, then British Waterways will re-consider how the properties are to be sold."
The company said that the money raised from the sale would be reinvested in the county's waterways.