Cheltenham council's grade II-listed offices reviewed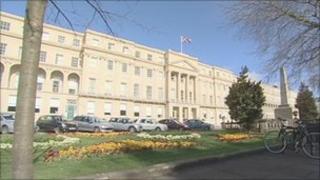 A review is to take place into the future of Grade II-listed council offices in Cheltenham.
The building is expected to cost the borough council £6.6m to maintain over the next 20 years.
The authority's cabinet voted to investigate whether to move out and sell the building or downsize over the next year.
The Liberal Democrat-controlled council needs to save more than £3m over the next two years.
It costs the authority £373,000 a year to occupy the building.
A survey has been carried out that has indicated only 54% of the Municipal Offices is occupied.
Due to the historic construction and content of the building, there is little scope for internal reconfiguration, the survey said.
Officers' recommendations to a meeting earlier, included exploring in more detail the feasibility of relocating and looking at how to make better use of the existing space.