Olympic tourism hope for Cheltenham and the Cotswolds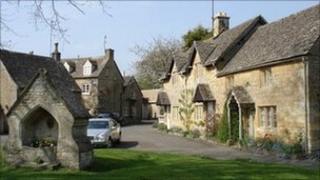 Hotel and B&B owners in the Cotswolds say they are hoping to cash in on next year's 2012 Olympics in London.
Tourism chiefs are optimistic the Games will attract overseas visitors to the area.
Sue Adie from Cheltenham Tourism said it was an "exciting time" although so far there has been "no noticeable increase" in hotel bookings.
Ms Adie said bookings "may take a little while to build up".
"There is a year to go and hopefully it will start hotting up from now on," she said.
'Forerunner to Olympics'
A group of sports writers from New Zealand have recently visited the area to report on Robert Dover's Cotswold Olimpicks, which are held annually in Chipping Campden.
The games, which date back to 1612 and are considered by historians to be a forerunner to the modern Olympic movement, feature unusual sports such as shin-kicking and tug of war.
"That might generate some interest when it's published," said Ms Adie. "Hopefully we'll get more people coming to look around the area."
There is also hope that Olympic football matches being held in Coventry and Cardiff will lead to fans staying in Gloucestershire because it is about halfway between the two venues.
"We might be lucky enough to get a few bookings from that," Ms Adie added.
"And if there are any people that want to stay longer in Britain [after the Olympic Games] they might come out a bit further as we're only a couple of hours from London.
"Maybe once they see Britain they'll come again as well, so hopefully there'll be a knock-on effect."
Ms Adie said Cheltenham and the surrounding area was "well placed" to offer accommodation to tourists with hotels, B&Bs, self catering and apartments in plentiful supply.
The Olympic torch will visit Cheltenham on Wednesday 23 May 2012, as the torch relay makes its way around the UK.