Blondie drummer Clem Burke to receive doctorate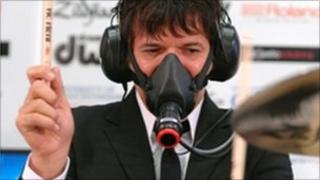 Clem Burke, drummer with the band Blondie, is to receive an honorary doctorate from the University of Gloucestershire.
The veteran US musician has been awarded the degree for his "groundbreaking work with students" as part of a pioneering drumming project.
The project was launched in 2008 to explore the positive physical and psychological effects of drumming.
It has also been used to target "super-obese" children.
Research has revealed professional drummers can have a heart-rate profile similar to professional footballers.
The Clem Burke Drumming Project (CBDP) has been researching the heart rate, oxygen uptake and blood lactate levels of professional drummers in rehearsals and during live shows.
Dr Steve Draper, co-founder of the CBDP at the University of Gloucestershire, said it was "a fitting recognition of the achievements of its figurehead".
"Clem is a respected, world-renowned and Grammy award-winning artist who has enjoyed a long and varied career in music. It has, and continues to be, a privilege to work with him."
Clem Burke said he had never expected that his work would result in such an award.
"It is truly a great honour and I accept this award on behalf of my brother drummers everywhere in the world," he said.
The graduation ceremonies will be held on 30 July.