Canal refilled with water in Stroud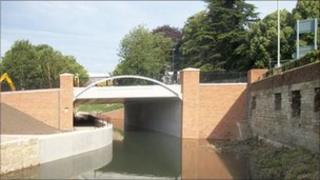 A section of canal in Stroud has been refilled with water as construction work on a new bridge nears completion.
Since work began on the new £1.8m Brewery Bridge in July 2010 water had been diverted through a temporary pipe into the Wallbridge lower lock.
The structure carries the A46 over the old Thames and Severn Canal, which is being restored.
Nigel Edgeworth, project manager, said it marked "a significant milestone in the project".
"This is an extremely important project for Stroud, and the wider canal area, and I am delighted that things are really starting to take shape," he added.
Temporary dams
"All being well, the project will finish as predicted this month with the new bridge being open to the public within the next few weeks.
"We have been fraught with delays and I would like to thank the people of Stroud and motorists for their continued patience," he said.
While the building work took place engineers constructed temporary dams between the upper and lower locks to keep the water away from the work.
On Monday work started on removing the pipe and the lower dam to allow the water to flood into the canal overnight.
It was up to the full level by mid-morning on Tuesday.
The bridge had originally been due to open in November 2010 but building work was delayed because of bad weather and an unexpected excavation at its base.
The ongoing Cotswolds Canals Restoration Project aims to reconnect the River Severn with the River Thames.