Wimbledon champion of champions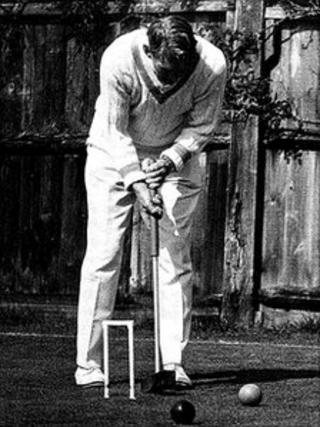 He has won more Wimbledon singles titles than Martina Navratilova, Pete Sampras, Bjorn Borg and John McEnroe combined, and yet you have probably never heard of him.
That is because 89-year-old Professor Bernard Neal from Cheltenham is not a tennis player but a croquet player, and his wins at Wimbledon have been in the croquet club championships at the All England Lawn Tennis and Croquet Club.
Between 1963 and 2002 he lifted the trophy a staggering 37 times, only failing to do so on three occasions - in 1964, 1974 and in 2001, and he has won once more since then.
"It's not a very great achievement," he said modestly. "These were the club championships for members only, and not many members of the All England Club play croquet at all."
Currently president of Cheltenham Croquet Club, which is also home to the National Croquet Association, Professor Neal is an expert on the history of the sport in the UK.
Dominance of sport
"The All England club began life as a croquet club in 1868," he said. "In 1875 the club decided to try out a newly developed game called lawn tennis."
The first tennis tournament was run in 1877 and was won by Spencer Gore.
"It was a financial success but the champion himself thought that the game would never catch on. How wrong can you be?" said Professor Neal.
Lawn tennis then took over at Wimbledon. Croquet was abandoned 1882, and after a short revival, was dropped again in 1904.
It was not until the 1960s that it was brought back permanently, and that is when Professor Neal began his dominance of the sport.
He had taken up croquet while at Cambridge University, and played on the lawn at Peterhouse college.
'Interesting game'
"We used to play because it was there," he said. "I realised then that it was a very interesting game and it went from there."
A croquet lawn at Wimbledon was created in 1957 and lasted until 2007, when the new Court Number Two was built on top of it.
However the sport can be still played at Wimbledon on two of the tennis practice courts which form a full size croquet lawn.
Professor Neal has another connection to Wimbledon. In his professional life he worked as a civil engineer and played a small part in the design of the retractable roof on Centre Court.
"The two halves of the roof, where they come together, you have to be absolutely certain that there is no leaking," he said.
"Up in the middle, if you know exactly where to look, is a tiny little piece that is actually my design.
"It's something to stop the wind driving airborne water in."