Cheltenham MRI scan for loggerhead turtle from Plymouth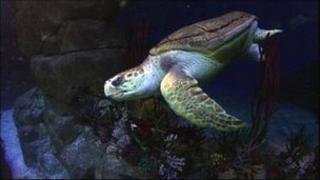 A turtle at the National Marine Aquarium in Plymouth is to be transported to Gloucestershire for an MRI scan to test for epilepsy.
Rescue loggerhead Snorkel has numerous health issues and after five years of close monitoring vets believe it is in her best interest to have a brain scan.
Sue Thornton, from the International Zoo Veterinary Group, said scans will show if she has a brain tumour.
Snorkel, a vet and three aquarists will visit the scanning unit in Cheltenham.
The most obvious problem is that she is prone to fit, which is dangerous for an underwater animal that breathes air.
Medication is given twice daily - the same medication as humans receive - which has controlled the level of fitting.
Reduce stress
Mrs Thornton said if a tumour were detected some "very difficult decisions" would need to be made.
"It is in her best interest to have this scan and we will do everything we can to reduce any stress that she will experience," she added.
For the journey, Snorkel, now in her mid 20s, will be smothered in petroleum jelly to prevent her skin and shell from drying out.
James Wright, from the National Marine Aquarium, said she is a "firm favourite" with visitors and everything would be done to keep her healthy and happy.
In 1990, Snorkel was rescued after being found washed up in Sennen Cove, Cornwall.
Due to ill health she has spent the last 10 years being cared for at the National Marine Aquarium.