Your Paintings: Gloucester museum's Oliver Cromwell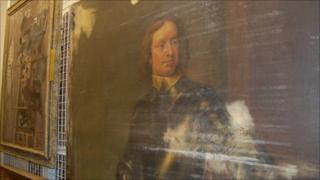 As part of an online campaign, the BBC in partnership with The Public Catalogue Foundation and collections across the UK, is launching the groundbreaking Your Paintings website.
The project tells the story of some of the 200,000 publicly-owned oil paintings which are not on display in England's museums and art galleries.
The Your Paintings website is being launched on 23 June to make all these artworks accessible by the public.
In Gloucestershire and Wiltshire there are more than 2,350 oils in 76 publicly owned collections, with about 80% normally in store.
Two of the main collections are housed in Cheltenham and Gloucester, with other works in smaller museums run by charitable trusts, enthusiasts and local authorities.
One such painting, housed at Gloucester City Museum is a magnificent picture of Oliver Cromwell, which was originally housed in the Tolsey - Gloucester's original town hall which was demolished in the 1890s.
'Gloomy character'
It is believed to have been painted shortly after the English Civil War by an unknown artist, and is in rather poor condition.
Unusually it depicts Cromwell without his famous warts.
Because of its large size there is no easy place for it to be hung in the building, and that meant is was, until recently, hung on the office wall of the museum's service manager, Andrew Fox.
"Oliver supervised my work, and a very gloomy character his is too," he said.
"Every time I looked up I would see dear old Oliver looking down at me."
The picture would need to be restored and to be framed before it could go on public display, but there are currently no plans for this to be done.
Gloucester City Museum houses about 300 paintings, most of which are normally in storage, but members of the public can request to see any of the works of art by appointment.
The museum is currently undergoing refurbishment and is due to reopen at the beginning of August.
As part of the Your Paintings campaign the programme Hidden Paintings of the West, presented by Laurence Llewelyn-Bowen, will be shown on BBC One on Sunday 26 June.