Gloucester register office closes in bid to save money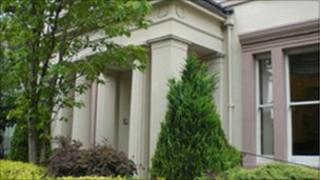 Gloucester's registration office is to be relocated by the county council to try to save £50,000 a year.
Maitland House will be shut as the Shire Hall takes over as the base to register births, deaths and give notice of marriages or civil partnerships.
Sally Bye, head of Registration and Coroner Services, said the move would improve efficiency and cut costs.
The current office will close on 13 June but weddings will still take place there while a new venue is being found.
Mrs Bye added that Maitland House had been an "excellent venue" but Shire Hall, the headquarters of Conservative-controlled Gloucestershire County Council, was more convenient for the public to access.
Maitland House could be sold to help the authority generate up to £45m from selling off property and land.
Councillor Will Windsor Clive, cabinet member for communities, said it would be a "priority" to plough any money from the sale back into vital front-line services.