Gloucestershire firm Lister Petter splits operations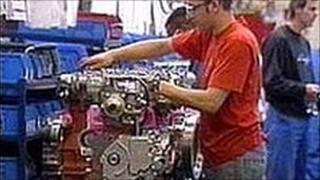 A Gloucestershire company which has been based in Dursley for more than 140 years is splitting up its operations to different sites.
Diesel engine maker Lister Petter must move out of its Littlecombe site by March 2012 because the buildings are not fit for purpose.
Thirty of the firm's 180 staff will move to new premises in Quedgeley over the summer.
The Unite union said it was concerned for the future of remaining staff.
The company had originally wanted to relocate to Tewkesbury or refurbish its current premises.
Colin Frayer, senior shop steward for Unite, said remaining staff were concerned they would have to move further afield.
He said: "There's still no news on what's going to happen.
"No-one wants to go to Tewkesbury which was an option at one point. Now they're looking at different options, evidently trying to buy somewhere in the locality or build in the locality."
'Was bankrupt'
Bryan Draper, the company's chief executive officer, said they would not move away and risk losing out on local expertise.
"Diesel engines are quite complicated things and there's a lot of experience that actually goes into building them. One of the things we don't want to do is lose that experience," Mr Draper said.
"Purely because of the logistics involved in such a move, it means you can't wait until February next year to do it.
"We would hope that we will have a pretty good picture towards the end of this month, and certainly plans must be finalised by 30 September this year.
"When we bought Lister Petter seven years ago it was bankrupt company, people had lost their pensions and it was small.
"Over the last seven years we've managed to grow it, we've taken on 100 new employees across the board in the Gloucestershire area.
"We wouldn't have made that investment if we didn't want to take it all the way."