Albino wallaby born at Gloucestershire farm park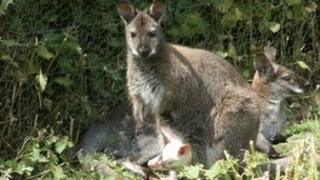 A rare albino wallaby has been born at a farm park in Gloucestershire.
The Bennett's wallaby was first spotted on Wednesday by staff at Dick Whittington Farm Park in Longhope.
The sex of the animal is not yet known, and he or she has yet to be given a name.
"We've been breeding wallabies for about three or four years and it's certainly the first time we've seen anything quite like this," said farm park director Chris Turney.
'Very rare'
"It's very different to the other joey wallabies we've got here, as the rest are the traditional grey colour," he said.
The creature is believed to be extremely rare.
Rob Rouse, who oversees mammals at Bristol Zoo, said: "True albino wallabies, which have no skin pigmentation and pink eyes, are very rare and unique creatures.
"We wish the youngster all the best."
Already the farm park has had an enquiry from a pet centre in Manchester, asking if the creature is for sale.
"Research we've done shows that they are worth quite a lot of money," said Mr Turney.
He said the park had identified an albino wallaby in the US, which had an asking price of more than $3,000 [£1,850].
"We'd obviously like to keep him here," he added.