Adder thefts from Forest of Dean reported to police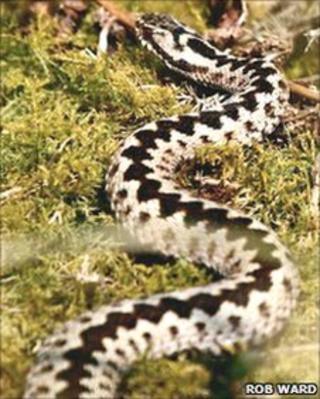 Police are investigating a report that four men were seen removing adders from a Gloucestershire tourist site.
The group was spotted in the Forest of Dean by a member of the public who reported the details of the grey vehicle they were driving.
A police spokesman said they were unaware of similar incidents before and would be actively investigating it.
In March a nationwide survey of UK amphibian and reptiles revealed that adder numbers were in serious decline.
The adder - Britain's only venomous snake - is protected under the Wildlife and Countryside Act 1981 making it an offence to kill, harm or injure them.
It is also an offence to sell them or trade them in any way.
"If people are actually removing adders it can only be for personal gain," said Rob Ward, 42, who has monitored snakes in the Forest of Dean for almost 35 years.
He said it was "disturbing" that snakes in the wild might be caught to sell on or add to a personal collection.
Stuart Burgess from the Forestry Commission encouraged visitors to the Forest of Dean to report any suspicious activity directly to the police.