Stephen Morris reviews unsigned band Silver Campervan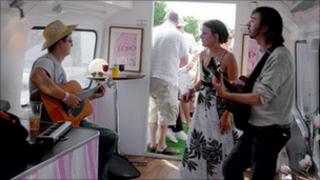 Can it really be three years since Silver Campervan were last reviewed on these very pages? Surely not.
Maybe it's just as well that Silver Campervan have a new EP out.
It's called 'Simplest Tycoon' and it's a rather beautiful thing: six tracks of gentle summery-ness wrapped up in digital form to beguile and bedazzle you.
Back then, this writer's comparisons were all with Nick Drake, the default benchmark for all acoustic, indie folk artists.
But it's a fairly reductive observation which fails to note some of the nuances within Silver Campervan's music.
The nevertheless distinctive sound of these fans of vintage holiday vehicles embraces a whole catalogue of bands and artists who have inspired them - or just sound a bit like them.
If you like this, a particular astute mp3 player (should such a thing exist) might suggest you try Kathryn Williams, Roddy Woomble, Cousteau, Syd Barrett, REM, Kings of Convenience, Supergrass or Ralph McTell.
This band are the very definition of lazy summer evenings.
Imagine the scene: post-barbecue, after the funk and soul compilations have been done to death, the party's turned to the chilled out stage, chilled drinks are being drunk.
Someone's even put the kettle on.
'Wistful'
Now imagine the ideal music to soundtrack the night, as you and your friends wistfully describe plans for holidays and memories of good times from the past.
That's right: you're thinking of Silver Campervan and your brain should probably be paying the PRS fees to the band RIGHT NOW.
The lyrics to the sextet of songs is as wistful as the music accompanying them.
There are songs tinged with regret over love's labours lost ('Circus Song' and 'Long Drive Home'), but the overwhelming theme of the EP is one of the aforementioned wistfulness: of dreams and desires and plans to put the past - maybe a complex, confusing past - firmly where it belongs.
"The simple life is the richest life" runs the chorus of 'Little Bird" over a rich, sumptuous 'cello.
It could be the record's motto - a record which, after all, features the word "simplest" in its title.
'Smoker's Delight' is all about simple things: "sailing away for some land where we can be homely" or hanging "around in city parks and watch[ing] thunder clouds just float away".
'Western Corner' also features dreams of simplicity, this time in contrast to the dreary repetitiveness of the working week: "Sunday is my favourite day/sleeping my life away/my eyes wide open", while 'Alcohol's Need' states the simplest of dreams: "we can watch the flowers grow".
Silver Campervan's gentle, soothing folk-indie songs have changed little in style in the past three or four years. Nor should they.
Each track is a beautiful, intangible moment in sound: delicate and as light as a bubble, though rich and weighted in substance.
The minimalist line up: gentle guitar, a couple of vocals and the occasional cameo of a 'cello or a melodica shows that less is definitely more.
A beautiful, beautiful thing.